The Omnipod® 5 allows for wireless syncing to your Glooko account every 5 minutes (with a one hour delay.) For more information on the Omnipod® 5 System and when it may be available for you, please visit Insulet's Omnipod 5 FAQs. 
Initiating a connection between your Omnipod® 5 with your Glooko account occurs during the Insulet-provided onboarding session or can be performed at any time from within your PodderCentral account. It is currently not possible to initiate the connection from within your Glooko account. 
During the onboarding process within your PodderCentral account, you will be redirected to Glooko in order to create a new account or link an existing account. If you already have an existing account with Glooko, it is recommended you link your Omnipod 5 to this account. 
If you have previously connected your PodderCentral account to Glooko by using the Omnipod® DASH™ Cloud to Cloud connection, your currently connected email address will auto-populate during the Omnipod 5 linking process. Should you have any issues accessing this previously connected Glooko account, please contact Glooko Support.
Connecting your Omnipod 5 to Glooko
If you do not connect your Glooko account during Omnipod® 5 onboarding, you may do so at a later date within PodderCentral by following the instructions below: 
Login to your account at PodderCentral

(

https://insuletid.com/

) from a computer/laptop/mobile browser. Please note this cannot be done from the PodderCentral mobile app. 

Select Diabetes Data or

Manage my Data

from the toolbar on the Homepage
Select Link in line with Glooko to connect your Omnipod 5 to your Glooko account, as seen below

If you are having trouble linking your Omnipod® 5 from within PodderCentral, please contact Omnipod® Support.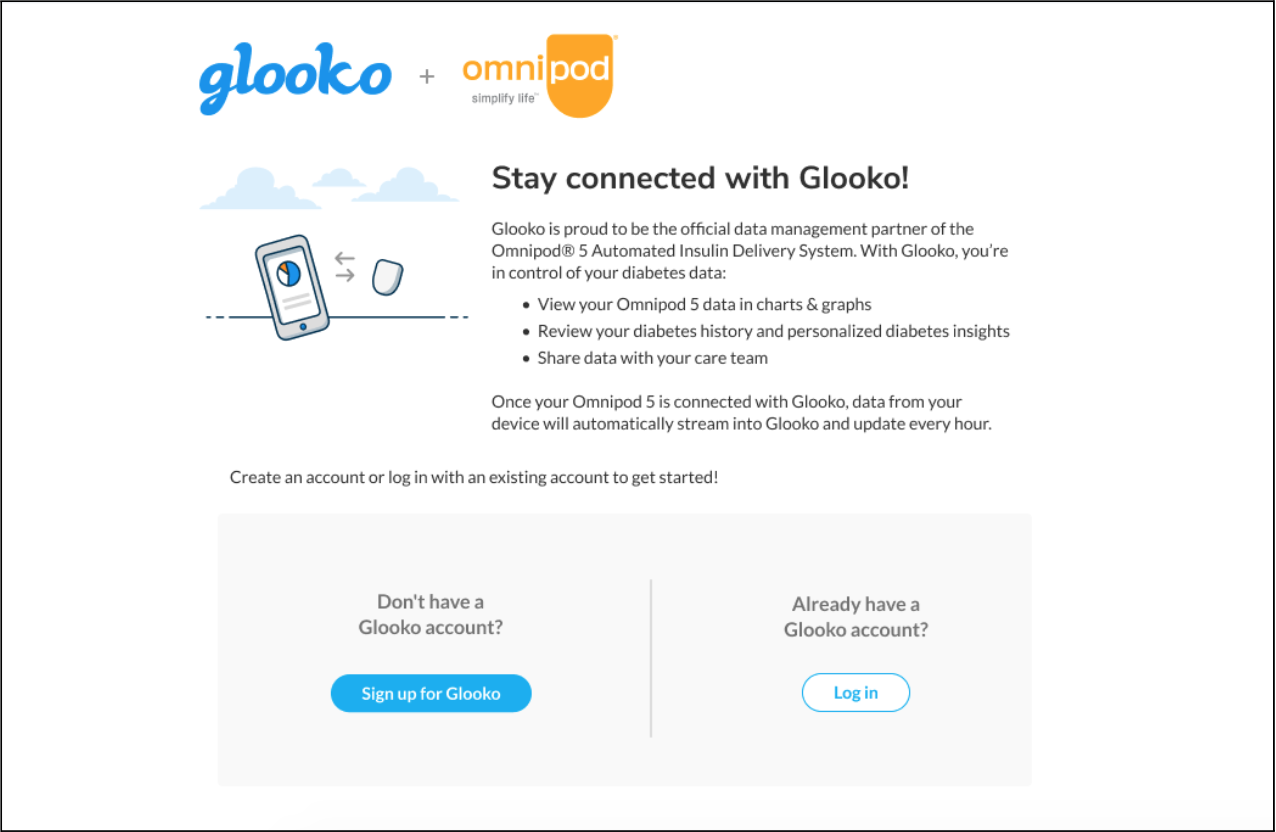 Once connected through the onboarding process, you will be able to check your Omnipod® 5 connection status withing Glooko by following the steps below: 
Select the account initials in the top right 

Select

Settings
In the Apps & Devices section, the Omnipod® 5

button will display as

Connected
NOTE: You must first connect your Omnipod 5 to Glooko within PodderCentral before you will see this option within your Glooko account.