The Population Tracker now features a new Flags column in your Patient List for health systems utilizing the Population Health feature. Whenever a patient satisfies certain at-risk criteria, a new flag will display within this column. Currently, the flags are auto-updated on a daily basis at 8am PST/PDT.
There are 5 default flags that display in blue in the patient list: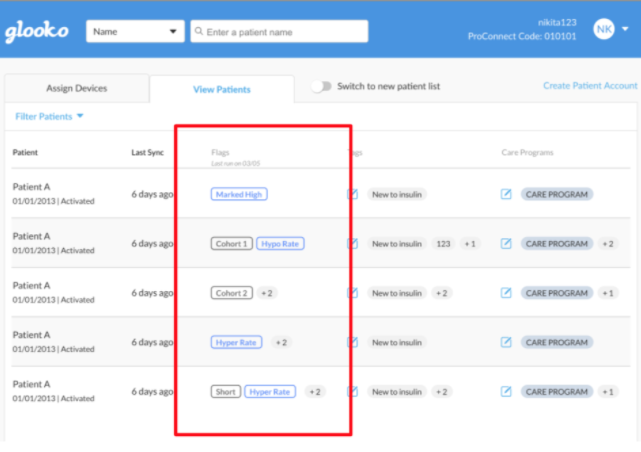 What is the Dropout Risk flag?
The Dropout Risk flag appears for patients who are predicted to be at risk of dropping out, meaning they are likely to stop remotely syncing their diabetes device(s) within the next 4 weeks.
A patient's drop out risk is determined by a machine learning algorithm that reviews the individual's previous 4 weeks of data and predicts their likelihood of dropping out utilizing data features from demographics, diabetes outcomes & engagement, and Glooko mobile app engagement (Table 1).
Table 1
Diabetes Outcomes and Engagement

App Engagement

Demographics

- Hypoglycemia occurrences
- Hyperglycemia occurrences
- Average blood glucose
- Number of Glucose Checks

- Number of app clicks
- App features that were clicked
- Number of diabetes device uploads
- Days since last app activity
- Days since last device upload
- Number of active days on app
- Diabetes type
- Gender
- Age
- Tenure on Glooko
- Diabetes device type
This feature gives health systems the opportunity to identify and selectively reach out to patients at highest risk of dropout in a timely manner, resulting in a smoother remote patient monitoring experience that meets reimbursement criteria. For more details on the data features used and how this flag can be leveraged in support of remote patient monitoring, please see our blog post Supporting remote patient monitoring (RPM) by leveraging machine learning to predict dropout risk.
Creating Custom-Defined Flags
In addition to the default Glooko flags, healthcare providers can also create custom flags based on their own at-risk criteria. Once created, these flags will auto-update on a daily basis on the Population Tracker patient list.
Custom flags can be created via the Population Health platform which is accessible from the clinic dropdown on the top right. To learn more, see Population Health: Custom Cohorts.