For users who utilize Smart insulin pens, Glooko can now help identify potential prime doses. A prime dose is the expelling of a few units into the air before an injected dose, to ensure proper flow through the needle.
With Prime Detection enabled, whenever a prime dose is detected, it will be excluded from your insulin statistics and graphs. Regardless of this detection, the dose will still be stored in your Glooko account.
From the Glooko mobile app, you may edit a dose to select whether it was a prime or injected dose.
Enabling Prime Detection - First Sync
Whenever you sync a compatible Smart pen for the first time, you will be prompted to enable Prime Detection at the end of the sync tutorial. You may also disable or enable Prime Detection at any time from both the mobile and web app.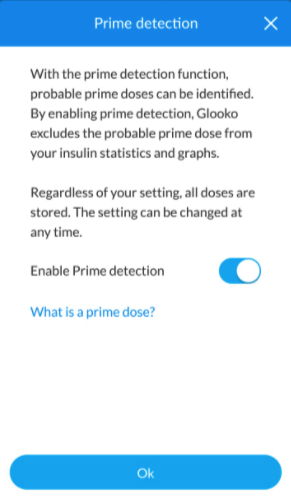 Enabling/Disabling Prime Detection via the Web App
To enable or disable Prime Detection from the Web App:
Select the circle with your initials in the top right and select Settings
Scroll to the Data Settings section
In the Prime Detection section, select Yes or No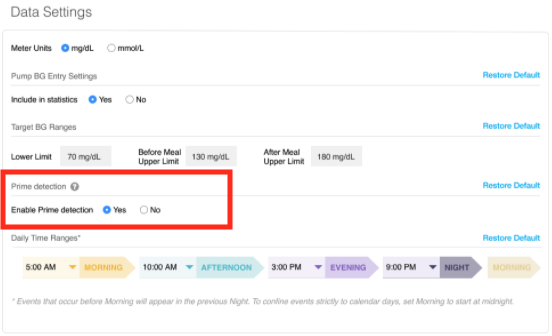 Enabling/Disabling Prime Detection from the Mobile App
To enable or disable from the mobile app:
Access your Profile

For Android: Select the three lines in the top left and select Profile
For iOS: Select More and choose Profile

Select Settings
Select Prime Detection

Tap to toggle Prime Detection on or off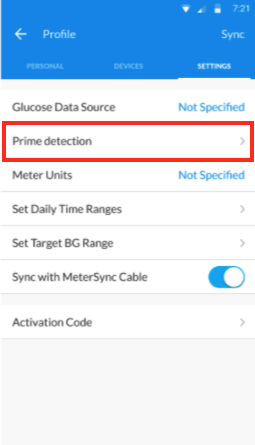 Viewing and Editing a Prime Dose
Prime doses have their own unique icon and identified as Primed doses when displayed in the History section of both the mobile and web app.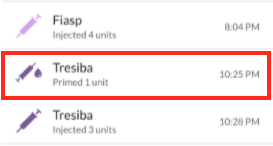 To change a dose from injected to prime or vice versa, tap to select the dose injection from the History section.
Note: Doses can only be changed from the mobile app.
Once the dose is selected, you may classify the injection as either Injected or Primed: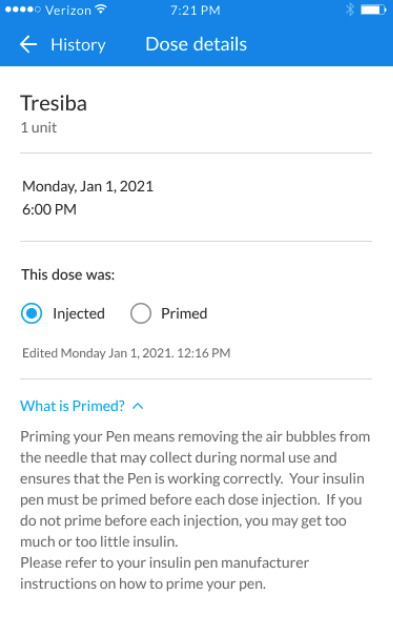 Still have questions? Reach out to our support team!