If you have an existing Dexcom Account, you can set up your Glooko account to receive updated data (with a 3-hour delay) from Dexcom once every four (4) hours. Glooko is able to receive both Dexcom G5 and Dexcom G6 data via this connection!
Follow these instructions to connect your Dexcom Account to Glooko:
Log in to your Glooko account at my.glooko.com
Click Settings
Scroll to the bottom of the Settings page

Click Connect Dexcom Account.
Enter your Dexcom Username and Password. Click Log in.

By signing into your Dexcom Account, you are allowing Glooko to access and display your Dexcom data in the Glooko mobile and web app.

When you are successfully logged in, you will see the Dexcom Connected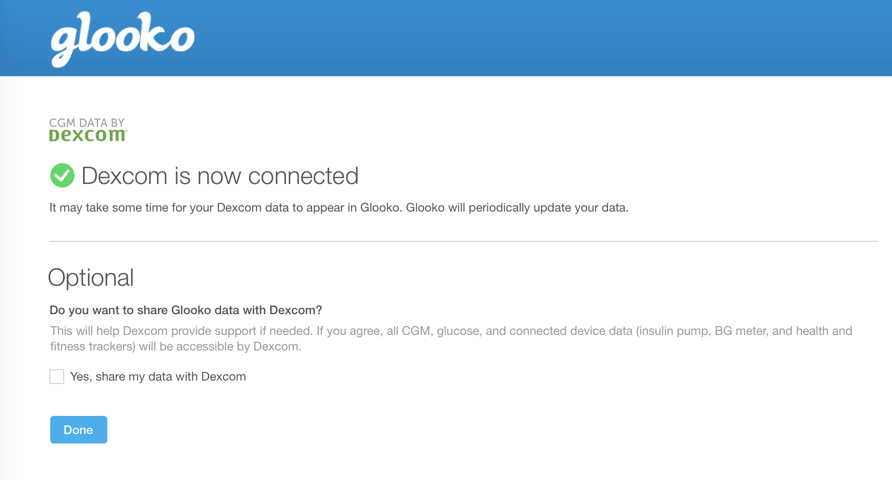 Your Dexcom data will now sync once every four (4) hours from your Dexcom Account to Glooko. Your data will be visible online at my.glooko.com or on your Glooko app on your mobile device.
IMPORTANT: You only need one connection from Dexcom to Glooko, so if you have Apple Health active, please disconnect Glooko from Apple Health before setting up your Dexcom Account directly. Visit Apple Health > Sources > Toggle OFF Glooko
Note: If you wish to disconnect your Dexcom Account from Glooko, you can do so following the instructions here.