The Devices tab has been redesigned in order to provide users with a better overview of the devices connected to your account, along with increasing the amount of settings displayed per device.
Note: Currently, only device settings from insulin pumps are displayed. CGM and BG devices will be listed here, but no settings will be displayed if one of these device types is selected. Settings for these device types will be added in a future release!
Paginated Device(s)
In the new design, users will see a paginated list of all their synced devices on the left hand side of the page:


By selecting the preferred device from the left-hand panel, the settings available for the particular device will be displayed in the main right-hand screen. Information previously found on the devices tab, such as the Serial Number, Last Sync Time, and any Device/Time Offset is maintained within this left hand panel.
Pump Profiles and Device Settings
When selecting an insulin pump device from the left hand panel, the device settings are now segmented into the Pump Profile and Device Settings
The Pump Profile option includes the following information:
Basal program(s) from the device, including an indication of which is currently the Active program
Insulin:Carb Ratios
Sensitivity (ISF, Correction)
BG Target Range
BG Correction Threshold
Similarly, for each data set on the Pump Profile, a table visualizing the data is now included.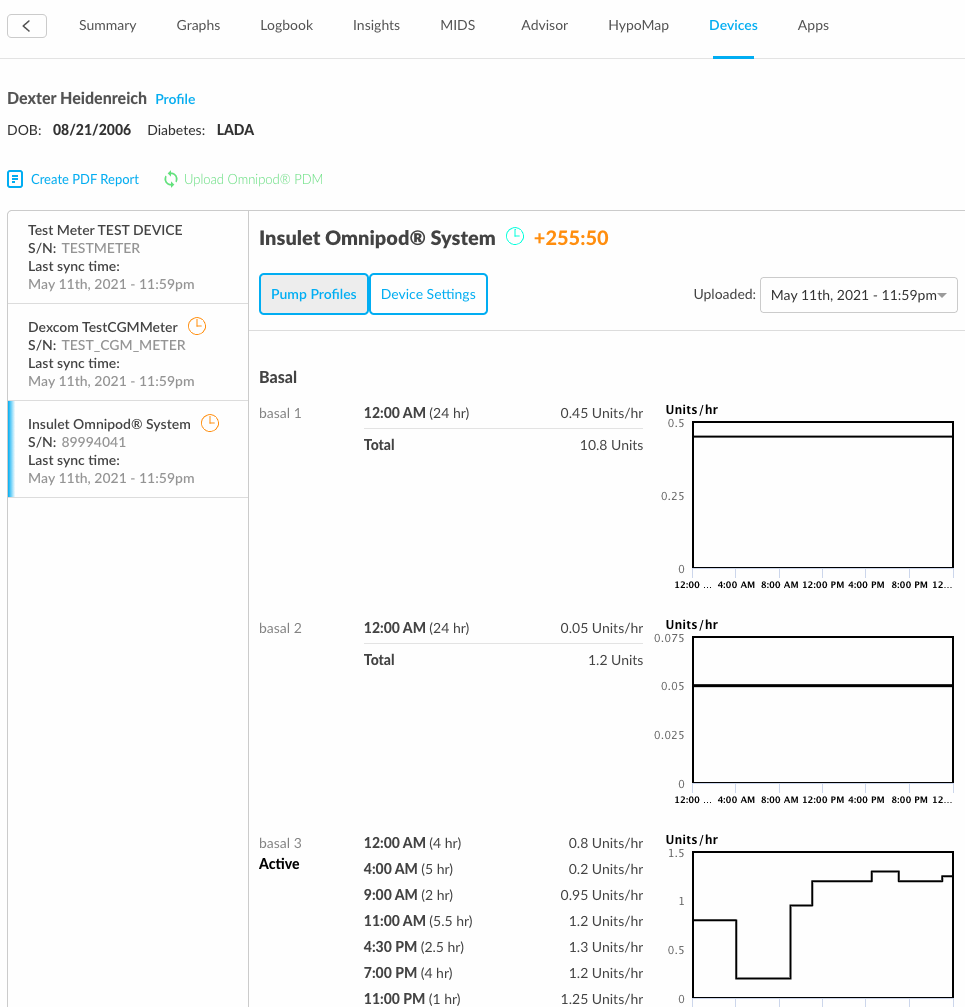 The Device Settings option includes general information regarding the device, such as:
Active Insulin Time
Unit of Measurement
Device Settings for Omnipod® Devices
For Omnipod Eros® and Omnipod DASH® devices, information on the following settings will also be available on the Device Settings option:
General settings:
BG Reminder
Auto-off Alarm
Reminder Alerts
Confidence Alerts
BG Sound
Bolus Increment
Language
Bolus Settings
Min BG for Bolus Calc
Bolus Calculator Enabled
Extended Bolus
Reverse Correction
Max Correction
Bolus Reminder Options Enable
Basal Settings
Max Basal Rate
Temporary Basal Enabled
Active Basal program
Device Settings for Tandem Devices
For Tandem t:slim X2, Tandem t:slim X2 with Control IQ, and Tandem t:slim X2 with Basal IQ, information on the following settings will also be available on the Device Settings option:
General Settings
Cannula Prime Size
Low Reservoir Level
Pump Volume: Button
Pump Volume: Quick Bolus
Pump Volume: Bolus
Pump Volume: Reminders
Pump Volume: Alerts
Pump Volume: Alarms
Auto-Off Enabled
Auto-Off Timeout
Feature Lock
Last Keypress to Display Timeout
CGM Settings
Glucose High Alert Limit
Glucose Low Alert Limit
Glucose Rise Alert Limit
Glucose Fall Alert Limit
Transmitter Out of Range Alert Snooze Time
Glucose High Enable
Glucose Low Enable
Glucose Rise Enable
Glucose Fall Enable
Transmitter Out of Range
Bolus Settings
Max Bolus
Quick Bolus Enabled
Quick Bolus Increment
Basal Settings
Max Basal
Active Basal Program
Hybrid Closed Loop Settings (Tandem t:slim X2 with Control IQ only)
Closed Loop Enabled
Weight
Total Daily Insulin
Currently, Pump Profiles and Device Settings are only available for Insulin Pump devices. If another device type is selected, the device settings will display as Device Settings are not available. Device settings for other device types will be added in a future release!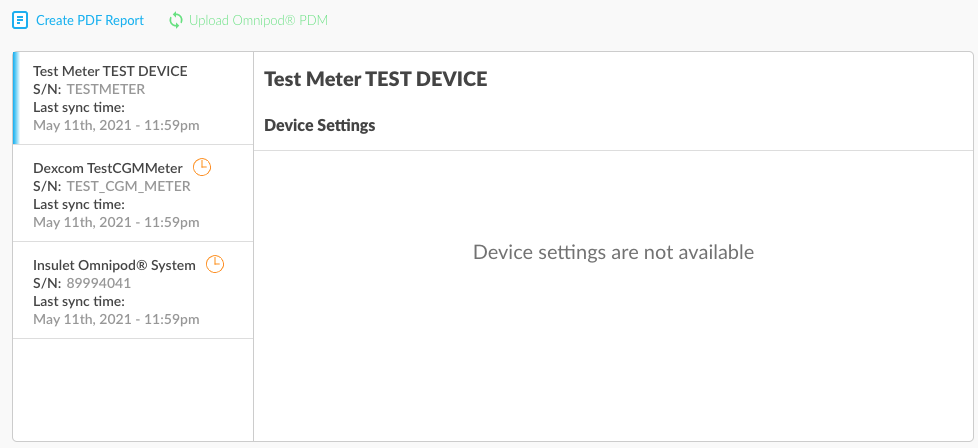 For any Cloud connections, you will see a tab for both the Cloud connection and the physical device. To review data from any device connected via the Cloud, you must select the physical device tab.
Historical Settings
With the inclusion of the Uploaded time selector, you are now able to view the historical settings from the pump at the time of previous uploads: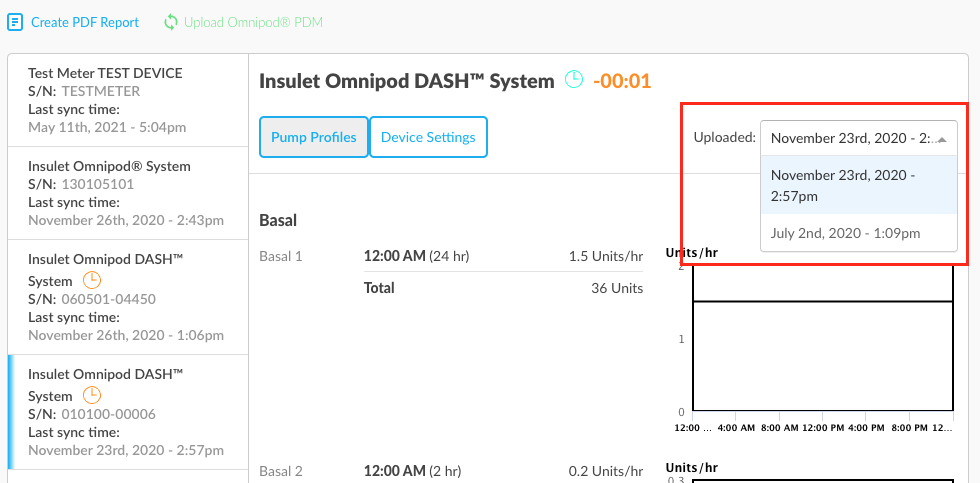 This allows users to go back in time to see what settings were active on their device at the time of uploader. The historical settings are limited to 8 past uploads; if the user uploads the device more than 8 times, the oldest set of settings will be overwritten.
Previously, users were only able to review device settings at the time of the most recent upload.
Device Settings PDF Report
Creating the Device Settings report follows the same flow as before:
Select Create PDF
Select the Devices report
Select Create
A one-page report containing the most recent device settings for each device type will be included. This means, for example, if a user has two insulin pumps connected to their account, the device settings report will only include the current device settings of the most recently uploaded insulin pump.
Below is an example of the device settings report PDF: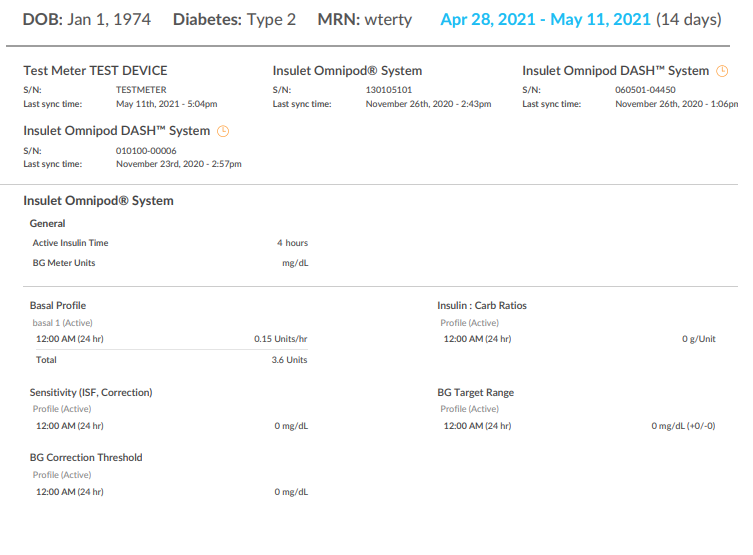 Have questions? Reach out to our Customer Support team!